How to Enroll
Enrolling in The Health Plan is easy. Simply complete an Application and submit it along with the Contract Fee to THP TM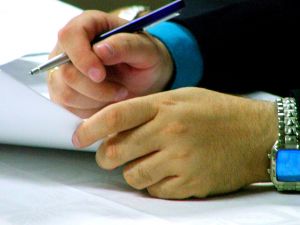 The Health Plan Application is separated in 3 broad sections:
1) Plan Holder Information
2) Plan Parameters
3) Employee Information

We would suggest you become familiar with these instructions prior to the completion of The Health Plan Application.

Let's examine each section of the application:


Section 1) Planholder Information:

Policyholder name: The legal name of your company is required here; Corporations operate as either numbered companies or have a specific registered name. ie: 123456 Ontario Ltd, or XYZ Moving Corporation. If you are not incorporated you are a Proprietor, which means you operate in your individual name or some other registered trade name. In either situation please fill in the name of your business. Mailing Address: The mailing address should be the regular address where you receive your mail. Phone numbers: Your regular business and fax. Other information: Fiscal year end, for Proprietors this is always December 31, for incorporated businesses, this will be the date you report as the close of your tax year. Contact name: Should be the person you wish us to speak to regarding the administration of your program.

Section 2) Plan Parameters:

The Planholder needs to determine what benefits will be eligible within The Health Plan . If you wish to have access to all eligible benefit options, please select all eligible. If you wish to limit the eligible benefits in your plan you can chose specific features like just Dental or just Prescription Drugs. Please answer the questions referring to opting out and back in. It is normally acceptable to allow employees to opt out of The Health Plan providing they show evidence of coverage through a spouse or other program. Benefit Maximums: As the employer will be responsible for all eligible benefits it may be desirable to adjust the limits available to the various classifications of employees. The Planholder needs to also determine if coverage will be extended to include the dependants of an employee. Additionally, the Planholder may also chose to impose a Co-Payment, which means that the employee will be responsible for a percentage of the cost of all eligible benefits. This process is often used to help contain the exposure an employer may have in offering The Health Plan .

Section 3) Employee Information

The Planholder needs to determine for The Health Plan the total number of eligible employees and the total number of employees participating in The Health Plan. As many employees may have access to a benefit program through their spouses, they may be included as eligible but at this time will not be participating. Please make sure in completing this section that you list the spouse and dependant information directly below the employee information. It is important to fill in the classification of each employee as this will match up with your Plan Parameter selections that were defined in the previous section.

Changes can be made at anytime to your plan; when employees experience a change in their classification or have changes in their Marital situation or add a Dependent please complete and submit The Health Plan change request form. This form is included with your administrative kit and is also available as a download from the website.